Promote was founded in 2000 by our CEO Kurt Wilson and is based in Wokingham, Berkshire. We are proud to say that we are one of the most experienced digital marketing companies in the country. Our team of gurus has seen the online marketplace and the ethos of search marketing develop over many years, and we have evolved alongside it. We like to boast that our innovations and ideas around inbound marketing have contributed to the creation of the vibrant and dynamic virtual marketplace that the world enjoys today. We see ourselves as 'Growth Hackers'.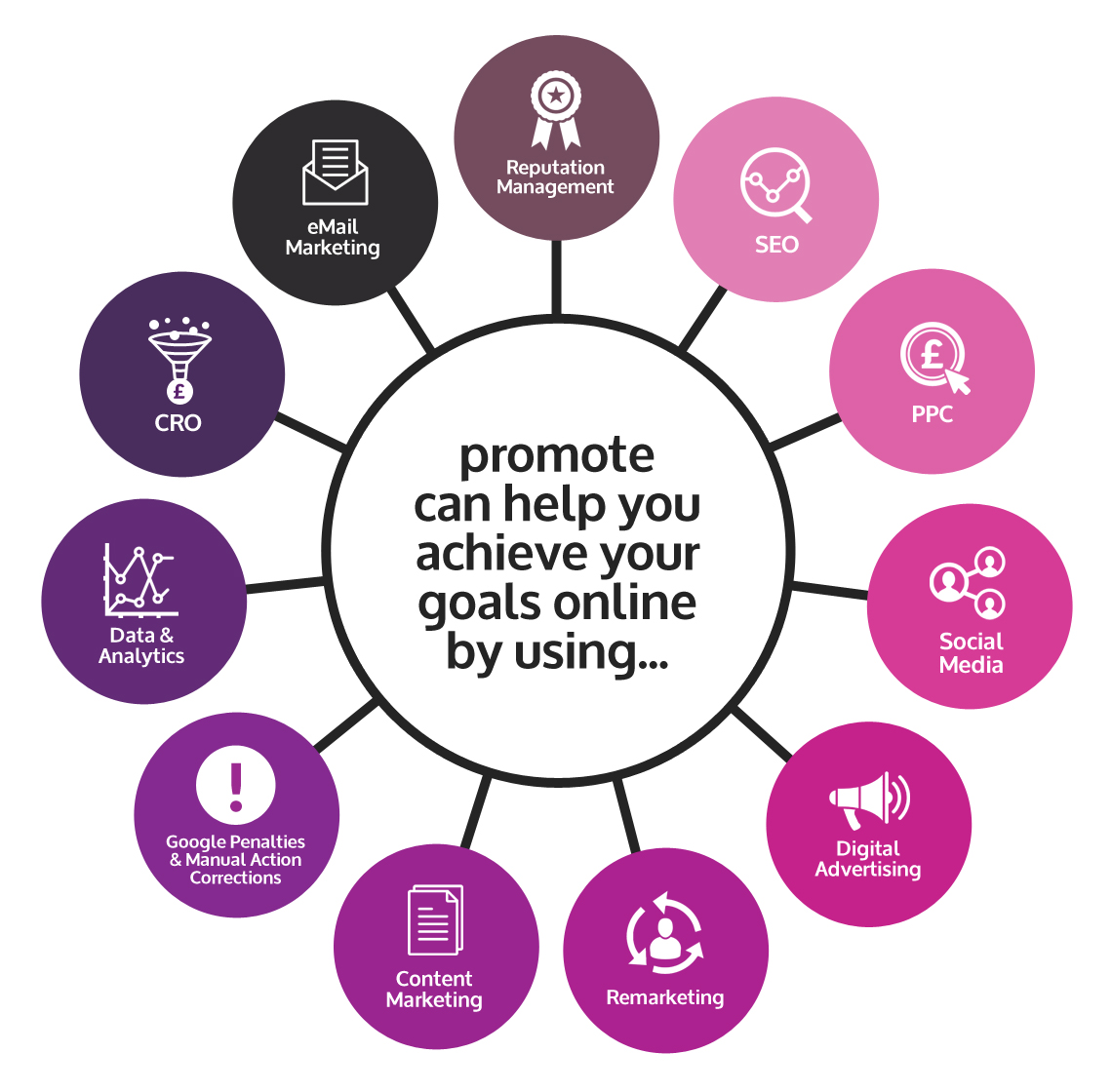 Over the years, as search marketing has become an increasingly necessary component of any successful online presence, we have been at the forefront; like digital pioneers, crossing the great, uncharted territory of online advertising, we have enjoyed highs and lows, just like every other supplier in the industry.
Throughout our firm's lifetime, we have worked alongside a wide range of business, of all shapes and sizes who either sell online or have corporate brochure websites where they want to promote their brand. We like to call it 'creating brand ambassadors'. This has provided us with incredible experience in the expectations and features of many industries, including automotive, fashion, technology and traditional retail. It has also, not to put too fine a point on it, made us absolutely fantastic at pub quizzes.
Our Team Defines Our Agency
Whilst it is true that technology and intuitive platforms have made our services all the more effective, we have never lost a sense of online advertising's most important components; our team. Experienced members, whom have never lost their passion for their craft, work alongside ambitious newcomers whom are excited to learn and make their mark on the exciting world of online retail.
Here at Promote, our team is our most important asset. Without our talented PPC professionals or our skilled SEO experts, we'd be nothing but a brand and a snazzy-looking website. Our team works in unison, so if any one of our specialists happens to be a little weaker on any aspect of online marketing, there will always be another to support them.
Whether you're looking for an expert in CRO, email, content or social media marketing, you can be certain that you'll find them amongst our supportive and friendly team.
What are the top 10 skills to look for when choosing a Digital Agency?
With our many years of experience we believe the supplier must be strong in all of the following disciplines and adapt to want you want to achieve online:
Search Engine Optimisation
Paid Search
Social Media
Display Advertising
Content Marketing and Outreach
Google Penalities
Data & Analytics
Conversion Rate Optimisation
eMail Marketing
Reputation Management
Our Clients Are Unique; So Are We
It has been said that the only constant in our industry is the certainty of change. The only way to fully establish oneself as a lasting presence in the virtual advertising world is stay ahead of the change. At Promote, we lead through our innovation. We know how to deliver the very best outcomes. We constantly re-assess how our services work to ensure that your company makes the most out of our work. When we say that we lead by innovation, it is not just a repetitive marketing term; it's the truth.
We understand that each client is unique, and yet we ensure that our approach remains consistent to every company we work alongside. Our dedicated digital marketing team takes the time to fully understand your individual brand, and reflects that brand identity through every component of your online campaign, from pay-per-click advertisements to search engine optimised content.
We take the time to make certain that our clients understand exactly what we are doing with their online presence, and why our actions will have long-lasting and positive effects for their business as a whole. We know how much trust it requires to convince a business to place its efforts into our hands and, here at Promote, nothing is more important to us than deserving that trust.
We've Worked Alongside Some Household Names
Over the past few years, our dedicated marketing team has built up and worked alongside a whole range of clients. Amongst our unbeatable portfolio you will find SMEs and household names, along with start-ups which we have helped to grow into profitable and rewarding ventures.
The wide range of businesses that we have worked alongside includes a fantastic array of industries, which has been essential to understanding the varying ways in which different marketing techniques affect different audiences. It has also enabled us to quickly and easily identify ways in which our client's websites might be further optimised for their specific target audience, without losing the ethos and uniqueness of their own brand.
We Absolutely Love Our Gadgets
Despite our incredible experience and our team's passionate dedication, we couldn't deliver such successful campaigns without taking advantage of the very latest tools and technologies. We ensure that our team have access to industry-leading software and regularly review our strategies to ensure that we remain at the peak of our game and at the top of our industry.
We're Looking Ahead!
Here at Promote, we are extremely proud of our roots, our ethos and the journey upon which we are embarked. We are ready to meet the challenges of the ever-changing and evolving digital marketplace and we are looking forward to growing with it. One thing that will never change, however, is the value we place on the human touch. The digital marketing industry can often be seen as an inhuman one, with little to no genuine human contact.
We take the time, and we will always take the time, to get to know our clients and their businesses personally. At Promote, with our fantastic new website, refreshed outlook on the industry and the drive to remain an industry leader, we are excited to take on the challenges of a fantastic virtual battleground and a brave new digital world.