The internet loves companies with something to say. Gone are the days when it was enough to simply list your products and expect customers to buy. Users expect more from online retailers these days, including quality, informative blogs, articles and more. Don't let your customers down by creating a content marketing strategy with Promote.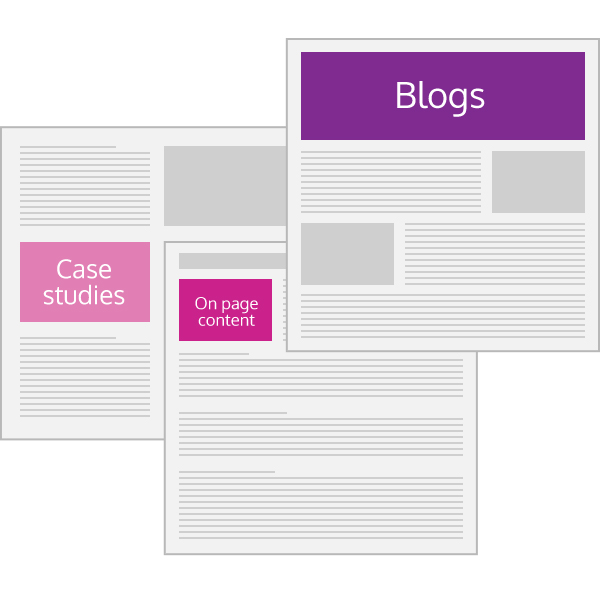 What Exactly Is Content Marketing?
Content marketing is exactly what it says on the tin; the process of marketing a business or brand online via creating informative, quality and engaging content for audiences to consume on a regular basis.
Like all forms of digital marketing, content-focussed strategies have the end goal of increasing leads and sales. What's more, it affords greater opportunities for interaction with your client base too and can be used to positively influence customer behaviour.
It can help build trust, raise awareness of your brand and help convey your business' positive message. A properly executed content marketing campaign sets you up as an expert in your field. From here, the groundwork of a successful, long-term business relationship can be established.
So Why Do I Need It?
Creating quality content that engages with your users sets your brand apart from the competition. As well as positioning yourself in a place of authority, it's also brilliantly shareable allowing your customers to do marketing for your brand!
Not only that, but all major search engines love websites that have a fresh stream of quality content. By providing it, your website will shoot up search engine rankings and attract that all important traffic. Properly done content marketing also fosters organic back links from great sources; helps improve online brand reputation and profile plus encourage users to convert.
Giving your customers what they want is the most effective way of ensuring they convert. In order to do this, you need to know your audience. This is the first step to building a content strategy that will be truly effective.
Producing the content is just one side of the story. The other is ensuring it reaches its intended audience, through the right channels at the right time. This way, the best maximum impact is assured.
How Do We Do It?
We'll chat with you first to discuss your brand and its goals. From here, we'll build a bespoke marketing strategy to achieve the results you deserve. Content marketing goes beyond just a few words on the page; it can include a variety of elements including:
Website Copy
Blogs
Case studies
Product comparisons/reviews
How to guides/tutorials
Instructional videos
Quizzes
Customer surveys/polls
Social media elements
Interviews
Much, much more!
Are you interested in our Content Marketing Services?

What will and won't work for you is discussed before the real work begins. Then chat to one of our content marketing experts today to take the first step towards the online success you've desired for so long.
You can reach our friendly staff on 0118 380 1002 if you prefer to have a natter over the phone. If email's more your thing, ping one across to hi@promote.agency today. We look forward to working with you.