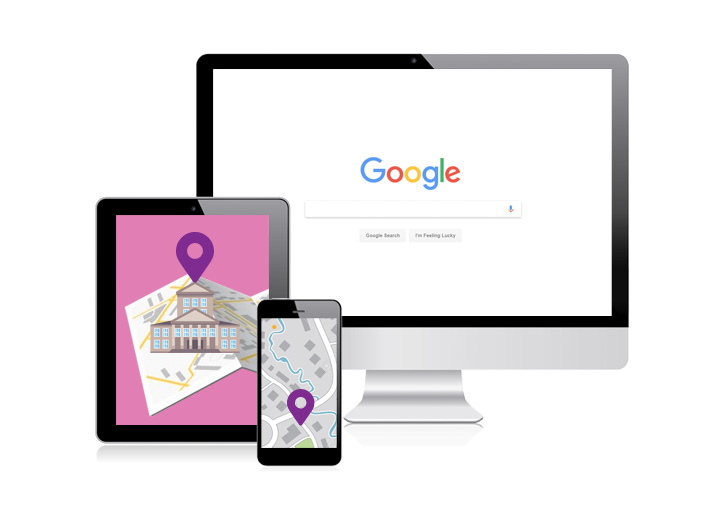 Numerous businesses utilise digital marketing techniques such as Search Engine Optimisation (also known as SEO). This is a fantastic type of professional online marketing which can be utilised to increase rankings in the results pages of search engines such as Google, Yahoo, and Bing. With SEO you can market directly to certain search queries, however with a technique called local SEO, you can also market towards local customers/clients.
Local Search Engine Optimisation allows local businesses to make the most out of their search engine marketing by focusing their efforts on a geographic location. This can be very useful for businesses regardless of their size or their area of expertise. Indeed it can be very beneficial for small businesses that operate in a local area as they can focus their efforts on a 10-20 miles radius. However it can also be very useful for larger businesses that operate nationwide, but they want to increase traffic from specific areas of the country, for example a business with numerous offices located throughout the UK, but they want to increase traffic in Berkshire for example.
How Does Local Search Engine Optimisation Work?
A skilled and professional digital marketing agency will do two key things in a local Search Engine Optimisation campaign with the goal of boosting your business' local SERPs rankings.
Utilise Keyword Research Techniques To Identify The Local Keywords.


Write High Quality, Effective, And Relevant Content For Your Business.

Keyword Research
Perhaps one of the most important phases of any SEO project, the research process is considered by many to be the foundation of a Search Engine Optimisation campaign. Indeed, without the correct keywords to target the correct search queries, 'you're fishing with the wrong bait'.
Our talented team of digital marketing professionals have the skills, knowledge, and experience to both identify the correct keywords and provide professional advice with regards to which keywords will yield the best results.
Writing High Quality, Effective, And Relevant Content
After you have researched the correct keywords, it is very important that you write high quality content that is relevant to your business and the products and/or services that you provide. Indeed, you cannot write a flurry of keywords over and over and expect to rank highly in search engine results pages. This 'technique' is known as keyword stuffing and is included in a list of unadvised practices known as Black Hat SEO. The use of such unadvised techniques could result in your business receiving a penalty from search engines.
Search engines such as Google understand that users do not want to shown content that is irrelevant to their search query. As such, relevancy is a very important factor in search results. So, in order to rank highly, you must create appropriate content. Our talented team of copywriters will use their skills and experience to create effective content that in time will help your website to boost SERPs rankings. For example with regards to local search, our skilled team of copywriters can create content that is relevant to your industry and is targeted to your local area.
Should You Choose SEO Or Other Search Engine Marketing Techniques Such As PPC?
It is important to remember that similar to SEO, Local Search Engine Optimisation is a marathon, not a sprint. This means that it may not deliver instantaneous results like other marketing techniques such as Pay Per Click advertising. However, one of the advantages of SEO is that unlike PPC, your clicks remain free.
Local SEO techniques work extremely well when combined with PPC advertising, so if you are interested in a digital marketing campaign that utilises both search engine marketing techniques, speak to our friendly and dedicated team of digital marketing professionals today and make an enquiry.
Why Should You Choose Promote Agency?
Since our founding in 2000, we are proud to say that we are one of the most experienced digital marketing companies in the country.
Throughout the years, we have worked alongside numerous different businesses from a variety of different industries. This includes businesses who sell online through the use of eCommerce websites and businesses that utilise corporate brochure websites to promote their brand, products, or services.
We have experience working with businesses in automotive, fashion, technology, waste management, and traditional retail. So, regardless of the industry you work in, our talented team of digital marketing professionals can provide your business with a professional local Search Engine Optimisation Service.
Professional Search Engine Optimisation Services From Promote Agency
Every business is searching for ways to attract new customers. Digital marketing techniques such as Search Engine Optimisation and local SEO are fantastic ways to market your products and/or services.
In our digital age, the benefits of ranking highly in search engine results pages are too great to ignore. Promote Agency has over 10 years of experience helping dozens of businesses reach the first page in SERPs and with the assistance of our skilled copywriters, we could do the same for your business.
Would You Like To Make An Enquiry? Get In Touch With Our Friendly Team Today
If you would like to discuss local search engine optimisation, or any of our other Search Engine Marketing services (such as PPC or SEO) with our team, please do not hesitate to contact our friendly and dedicated team of digital marketing professionals.
If you would like to contact us, you can speak to a member of the Promote team by calling 0118 380 1002. Our lines are open Monday to Friday, 9.00am to 5.30pm. However, if you would prefer to reach out to us online, you can contact us in the following ways.
You can contact our team by:
Filling out our enquiry form.
Sending us an email at hi@promote.agency,
Using the 'Chat with us!' feature in the bottom right of your browser,
Or by following us on Twitter @Promote_Agency.
Alternatively, we welcome clients to meet our team in person. If you would like to arrange a face-to-face meeting, please contact us and arrange an appointment. Our head office is based in Wokingham, Berkshire. However, for those based in the North of the UK we also have a Northern office which is located in Greater Manchester.